Tips and recommendations
Members of the local organizing committee from ALCI events will be glad to help with selecting and realization of your trips. You can ask for more information at ASRU contact point in NH hotel, by email asru2013@alci.cz or call Tamara +420 606 840 473.
The pre-Christmas time allows visitors to enjoy many attractions specific to Central Europe, so ideas for pre- and post-conference activities include:
Christmas markets in Olomouc
Typical Christmas markets in Olomouc are with plenty of Christmas concerts of popular artists and folklore groups. These markets are a perfect opportunity for buying traditional Czech Christmas presents and goods.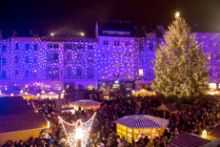 Outdoor ice skating on the main square
If you have never tried ice skating, there is an opportunity to assess how hard and slippery the ice is. The ice rink is located right in the middle of the city on the main square. You can skate for free every day from 9 to 22. Renting skates costs 80 CZK per hour with a returnable deposit of 500 CZK.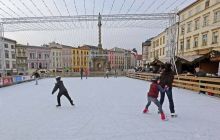 The Olomouc Archdiocesan Museum (website)
You shouldn`t miss the impressive holdings of the Archdiocesan Museum trace the history of Olomouc back 1000 years. The thoughtful layout, with helpful English signage, takes you through the original Romanesque foundations of Olomouc Castle, and highlights the cultural and artistic development of the city during the Gothic and baroque periods.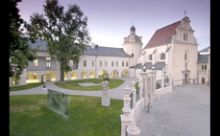 Trip to Prague
Prague is the capital city of the Czech republic. You would probably need more then one day to explore whole Prague, nevertheless also a one day trip there can be beautiful.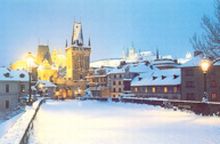 Trips to nearby Central European cities
Brno (CZ), Ostrava (CZ), Bratislava (Slovakia), Vienna (Austria), Wroclaw (Poland), Krakow (Poland), Budapest (Hungary) are all in 200km diameter. All of them feature Christmas markets with traditional costumes, toys, food, and, of course an abundant selection of warm and cold alcoholic drinks.
Skiing
Popular Moravian mountain range of Jeseníky with plenty small ski resorts is 50-100km from Olomouc. However, sufficient snow cover is not guaranteed at the beginning of December. For those planning to combine ASRU with skiing holiday, we recommend Austrian resorts 400-500km from Olomouc.